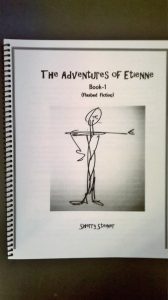 THE ADVENTURES OF ETIENNE
Copyright © 2017 by Sherry Steiner
All Rights Reserved
The complete ebook is now available on Amazon and Barnes & Noble for 99 cents.
https://www.amazon.com/author/sherrysteiner
https://www.barnesandnoble.com/s/sherry+steiner/_/N-8qa?_requestid=3304180

(Excerpt)
Etienne (1)
Etienne was slow in returning, long months relished, dead leaves, green leaves, colored leaves,
what used to be a long hour in a day turned to a week
swelling to months of calendar counting
and x'ing out and numbers marking in.
Moments devouring the old shot, popular angles instantaneously
removing directional control, some said all was not lost.
Phillip, for example initiated artificial passages that no one could board,
he simply said that it just didn't matter, like music once again,
the two found generated visuals without the usual warhola perspective,
one of them might have said something –
but it was a fade, dissolve and focus-through kind of deal,
audience participation on tempo,
fairly obvious he stalks his own background of related actions.
Etienne etienne focus focus o more cuts per minute, histrionic over-lappings,
a thirties adventure no doubt, no wonder, half a million dollar musicals, pastel revolvers,
brutal street sarcasm, phillip rejoiced in the baroque, increased synchronization –
miniature compressions, he reels, implicating positive data accentuating viewer decay,
his is a brief story, far away random case samplings stood at the forefront –
no one knew what he was talking about.
Just hold the elevator, please. breathless, etienne…
underground cabled clergymen came forth –
harbinger of gross negligence, firing up low brow reductions
from twenty-five years ago,
the story is old, a has-been-around – wrought iron,
guarded by his spirit
etienne joined a long line of images at an Italian storefront,
'I have no need' someone heard him say.
Yes, concise and to the point and remembering this he said no more.
Physical rhythms – a valid tool for mental escape interested Phillip
amused no doubt by the lack of centripetal decay
he shot a series of close-ups
subject to the approval of the shopkeeper,
cosmopolitan juxtaposition, a fourteen letter word,
hey, just back-up, generalize, track it casually,
remember – this unit is not labeled for individual sale.