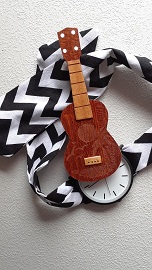 Ukulele4You!
OFFERS:
Team building workshops for business/organizations
Customized ukulele events for parties, festivals and more…
Ukulele4you! is a great way for people of all ages to come together
to tap into their soul through the magical powers
of this delightful little instrument that makes everyone smile.
Imagine a roomful of folks strumming on a ukulele and singing their hearts out…
It's positively energizing!
The possibilities are endless & no experience is necessary
Ukuleles will be supplied (loaned) – Hand Shakers will also be available.
BENEFITS
Will help break down barriers and deepen relationships
through the joy of this enchanting instrument.
Can increase communication skills through the universal language of music.
Participants are engaged with one another through music making and guaranteed laughter.
Brings out the best in everyone while learning to "play" together.
Create joyful and memorable events that can take place wherever you desire.
Ukulele4you! Contact Info:
email: indearts@aol.com
call/text Sherry: 413.329.4141